How to install 2015-2023 F150 Tonneau Cover 5.5'?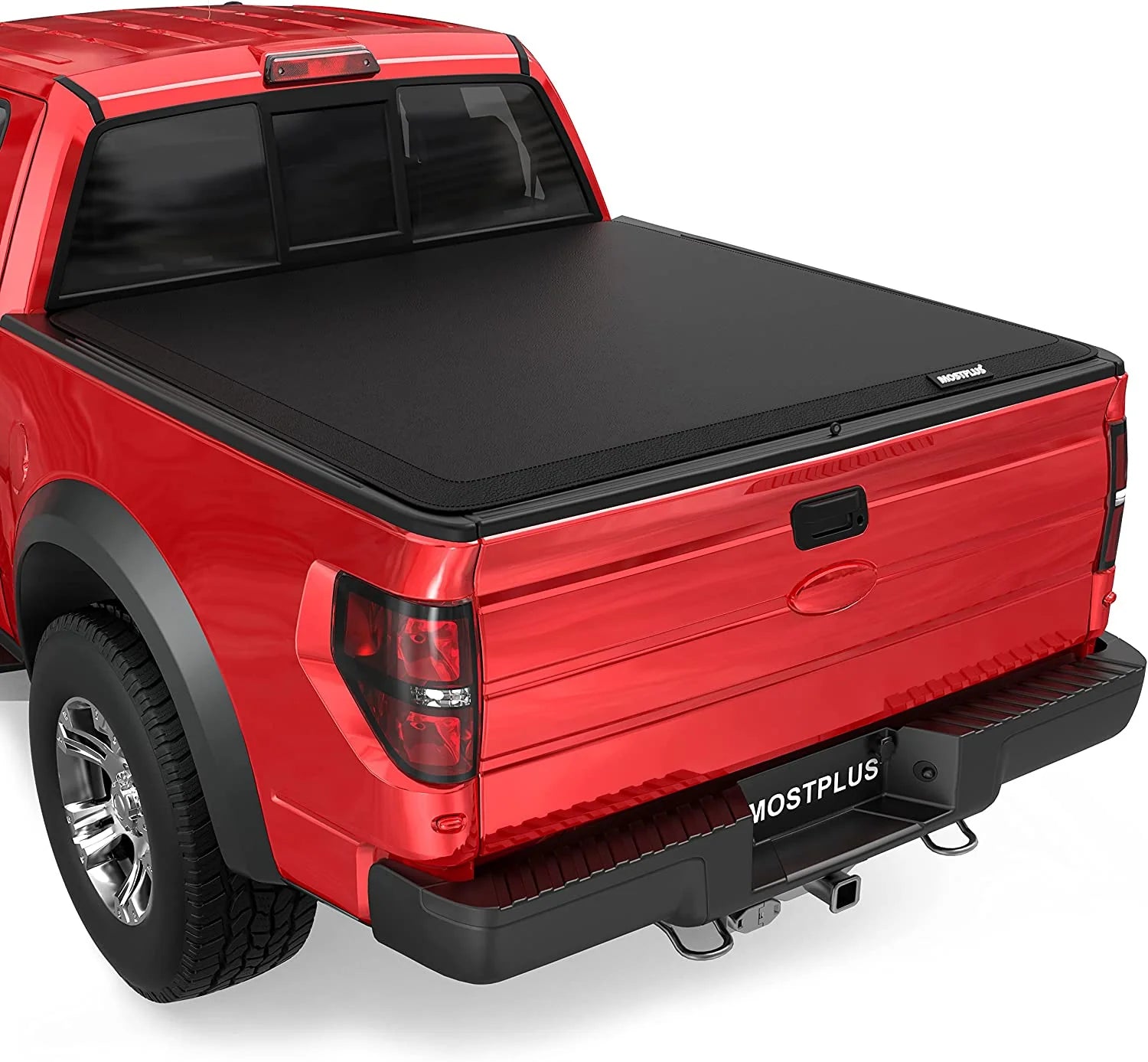 Hey folks, welcome to MOSTPLUS! In today's article I'm going to show you how to install a tonneau cover on a 21 to 23 F-150. This tonneau cover is the soft roll up for a 5.5 bed. This is for the 15 to 23 F-150.
I'm going to show you guys how to install this. I'll show you step by step and we'll get started.
Step 1 Prepare the Accessories
The clamps
The Roll-Up
The Weather Stripping
The instructions
The two sidebars
Step 2: Place the Weather Stripping
The first thing you want to do is, at the end of the two sidebars, you've got these two areas right here. You want to take this weather stripping right here, and you want to place it on the two corners since these two pieces right here.
Step 3 Place the Tonneau Cover on Your Car
Now you need to place the tonneau cover on the back, and you want to make sure that the part that rolls out is on the outside and the part that faces the bulkhead is on the other side. You can see the little weather stripping right there is going to be right there.
Step 4 Install Your Side Rails
Once you get that on, you want to get your side rails, and you're going to have one that has P for passenger side over there and then one for D for driver over here. So you want to get your rails on.
Step 5 Slide the Side Rails into the Connector
Once you have your side rails on, you want to slide them in. You want to slide them right into that connector there in the roll bar so that you can slide those right in there on both sides.
Step 6
Next, if you need to install additional weather stripping, the kit includes additional weather stripping, and you need this with a bed cap tailgate protector or liners. That's why you would need this. But if you don't, you don't have to.
Step 7 Install the Clamps
Next, you need to take these clamps, and you want to loosely install one on the tailgate and in the middle and up towards the firewall - three on each side. Okay, so you want to install all six clamps loosely.
Step 8 Align the Bed
And the next thing you're going to do is align the bed.
Step 9 Tighten Front Clamps
Once you've centered the tonneau cover on the bed, you need to tighten the front clamps. So, tighten this one and tighten this one on the driver and passenger side.
Step 10 Tighten the Tailgate Clamp
Once you've got the front clamp tightened up there, you need to come back to the tailgate clamp here, and you want to leave 1/8 of an inch of clearance between this rail and the header of the tailgate panel right here. So the next thing you want to do is tighten the tailgate clamps, and remember, this is a half socket or box wrench.
Step 11 Tighten the middle clamp
Now you need to tighten the center clamp, and remember when you're tightening these down, you want to get the clamp right in those grooves right there. You can see that little groove right there on the teeth that's on the clamp; you want to tighten that down there. Also, when you tighten these clamps, you don't want to over-tighten them. They should be tightened down to nine foot-pounds, but really just get them nice and tight and don't over-tighten them.
Step 12
At the very end of the tonneau cover, you need to put these other corners of weather stripping right on this guy.
Step 13 Unroll the Tonneau Cover
Now you need to unroll the tonneau cover completely and then you want to take this stop bar right here and go over this lip right here. And then you want to do that on both sides - both sides like that.
Step 14 Attaching the Truck Bed Cover
You want to get these little lubes here in this little notch right here and then you want to take both hands on top and you want to go down hard on both sides to secure it. And then you just want to take the Velcro on both sides and you just want to have the Velcro overlap the sides.
If you want to release the tonneau cover right underneath here are these little tabs and you want to pull down on both sides and that lifts the whole tonneau cover. So now you can go ahead and roll it back and you want to be nice and tight with it. Roll it all the way back. And then when you want to store it, you just take your safety loop and then you latch it to this loop right here.
So these little latches right here don't need to be adjusted. You don't want to adjust them because any tampering with them will void your warranty. So just make sure that you line up the rails correctly on both sides. That way, you won't have to adjust anything.
If your tailgate has a remote release tailgate, you want to make sure that the tailgate and the bed are nice and flush and that it has a nice seal going across. So you want to make sure your bed is flush and it's going to seal.
Step 15 Close the

 

Tailgate

 

Five

 

Times
Finally, also in the instructions, you need to close the tailgate five times just to make sure that it's working and that it seals right here on the weather stripping on the bottom. So you just want to open and close that five times.
And there you have it, there is the soft roll-up tonneau cover for the 5.5-foot bed for the F-150 and there you have it. I got the tonneau cover all installed; I really like how it turned out. It really conforms to the top of the bed; it's nice and level. Um, yeah, if you guys have any comments, questions, concerns, be sure to comment below.